Dexpan® Non-Explosive Controlled Demolition Agent

For Controlled Demolition, Reinforced Concrete Cutting, Rock Breaking, Quarrying, Stone Dimension, Mining, Excavating ...
---
DIY Concrete Cutting, Concrete Breaking, Concrete Demolition by DIY user
Dexpan® Non Explosive Blasting Demolition Agent provides amazing 18,000 psi expanding strength of silent demolition. Dexpan® breaks reinforced concrete and rock without noise, ground vibration and dust. An alternative to demolition hammer, diamond blade concrete gas saw, hydraulic breaker.
Reinforced concrete demolition and concrete cutting have never been easier for all demolition contractors, blasting contractors, excavating companies, mining companies, quarrying contractors or even demolition DIY do it yourself users.
Call Toll-Free 1-866-272-4378 for Free Estimates!
A DIY home user wanted to open a door in his basement. His wall was concrete surrounded by utility pipes. He couldn't use demolition hammer, diamond cut-off saw or other equipments. So he decided to use DEXPAN for his Demolition DIY do it yourself project.
DEXPAN was poured into the horizontal holes.
In about one hour, DEXPAN started to crack without touching utility pipes.
The result was exactly what customer expected.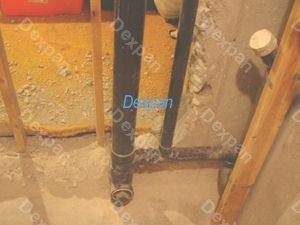 This job cost the customer About $100 on DEXPAN material.
DIY Concrete Cutting, Concrete Breaking, Concrete Demolition by DIY user
---